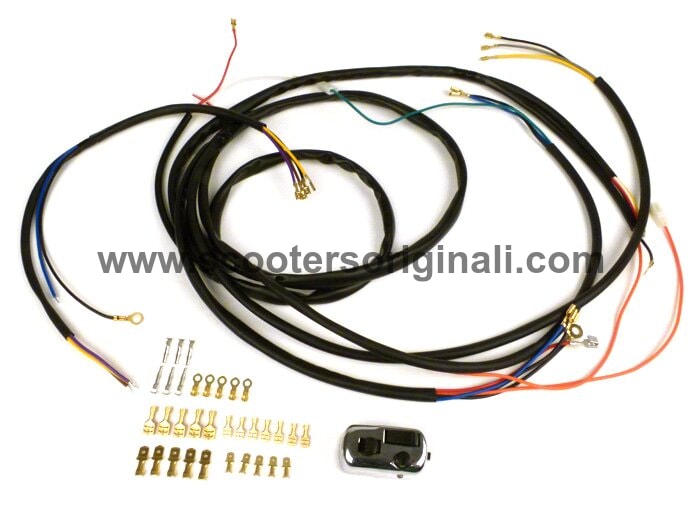 Vespa Wiring Loom / Harness AC Electronic Conversion with Light Switch Smallframe ' Largeframe - BGM
V05-479-BGM      BGM # 9077011  
Vespa Wiring Loom / Harness AC Electronic Conversion with Light Switch - BGM
Description
Simplified conversion wiring harness for conversion to:
PX alternator or PX engine in Rally, Sprint, VBB, Super, VNA, VNB, etc.
PK alternator or PK engine in V50, Primavera, ET3, V90 etc.  

The conversion to a more modern alternator/ignition type is a proven means to be more durable and safer on the road. The contact-free CDI ignitions are almost indestructible and reliable, and the light output with a modern, regulator-supported, on-board electrical system is many times higher, since not only is the voltage increased from 6Volt to 12Volt, but the ignition base plate can also produce more power in general.

Therefore it is necessary to adjust the wiring harness, because in modern electrics the alternators have all light coils connected in series for maximum power output and only one live cable is left as output for the on-board voltage.
This is then led to the voltage regulator, which limits the on-board voltage to constant 12-13Volt. This effectively prevents the dreaded domino effect of the old electrical system, where all bulbs burn out one after the other after a defect of one. Only after the regulator is the current then conducted to the individual consumers. By this technology also a very high performance alternator can be used like e.g. our BGM ignition base plate, which already guarantees a high light yield and ignition performance at low speeds.

To use such an alternator in the old chassis one needs therefore a suitable wiring harness. Our retrofit wiring harness is exactly the right thing and can be used very universally. It is based on an electrical system reduced to the most necessary, which lights the horn/ratchet, headlights/dipped headlights and the rear/brake lights. Optionally, the installation of a flasher relay is possible, the wiring harness is already prepared for this.

In connection with our BGM 12Volt voltage regulator, this results in a very modern on-board electrical system which, in addition to a brilliant and powerful light output, also has gimmicks such as a DC output for the charging function of a mobile phone or e.g. a navigation device.

By using our conversion wiring harness, no battery is needed anymore. A possibly existing 6V ratchet can still be used, it can cope with the occasional 12V without problems. Further technical information is stored in our wiring diagram.

reliable electronic ignition - never again adjust contacts
very high light output with 12V on-board voltage
optional direct current for the charging function of a mobile phone, navigation device

Please note: With very old vehicles space problems may occur due to the larger cable cross-sections of the conversion wiring harness used. This especially in the area of the tube duct for the rear light and in the steering head area. For safety reasons we do not want to use smaller cable cross sections.


BGM fitting Instructions 
Fits the following vehicles   
Vespa 50 N type 5N1, V5A1T
Vespa 50 S type 5S1, V5SA1T
Vespa 160 GS/4 type 382, VSB1T
Vespa 150 T/4 type 332, 3-speed (VGLA1T)
Vespa 150 T/4 type 332, 4-speed) (VGLB1T
Vespa 150 T/4 type 202, VGLA1T
Vespa 125 Primavera (engine 9NK)
Vespa 125 Primavera (engine 9NV)
Vespa 125 Primavera (engine 9T)
Vespa 75 Primavera (engine 9PK)
Vespa 75 Primavera (engine 9PN)
Vespa Super (engine 762M
Vespa 50 (engine 06M, 3-speed)
Vespa 50 (engine 07M, 4-speed)Vespa (Motovespa)
Vespa 75 (engine 08M)Vespa (Motovespa)
Vespa 75 PR (engine 9PR)Vespa (Piaggio)
Vespa 50 L (V5A1T)Vespa (Piaggio)
Vespa 50 N (V5A1T)Vespa (Piaggio)
Vespa 50 (V5A1T, 1963)Vespa (Piaggio)
Vespa 50 S (V5A1T, 1964)Vespa (Piaggio)
Vespa 50 Special (V5A2T)Vespa (Piaggio)
Vespa 50 Special Elestart (V5A3T)Vespa (Piaggio)
Vespa 50 Special (V5B1T)Vespa (Piaggio)
Vespa 50 Special Elestart (V5B2T)Vespa (Piaggio)
Vespa 50 Special (V5B3T)Vespa (Piaggio)
Vespa 50 Special Elestart (V5B4T)Vespa (Piaggio)
Vespa 50 Sprinter (V5SS2T, -1975)Vespa (Piaggio)
Vespa 50 SR (V5SS2T, 1975-)Vespa (Piaggio)
Vespa 90 (V9A1T)Vespa (Piaggio)
Vespa 90 Super Sprint (V9SS1T, SS90)Vespa (Piaggio)
Vespa 150 (VBA1T)Vespa (Piaggio)
Vespa 150 (VBB1T)Vespa (Piaggio)
Vespa 150 (VBB2T)Vespa (Piaggio)
Vespa 150 Super (VBC1T)Vespa (Piaggio)
Vespa 150 GL (VLA1T)Vespa (Piaggio)
Vespa 150 Sprint (VLB1T)Vespa (Piaggio)
150 Sprint Veloce (VLB1T)Vespa (Piaggio)
Vespa 125 GTR (VNL2T)Vespa (Piaggio)
Vespa 125 Nuova (VMA1T)Vespa (Piaggio)
Vespa 125 Primavera (VMA2T)Vespa (Piaggio)
Vespa 125 ET3 (VMB1T)Vespa (Piaggio)
Vespa 125 (VNA1T)Vespa (Piaggio)
Vespa 125 (VNA2T)Vespa (Piaggio)
Vespa 125 (VNB1T)Vespa (Piaggio)
Vespa 125 (VNB3T)Vespa (Piaggio)
Vespa 125 (VNB4T)Vespa (Piaggio)
Vespa 125 (VNB5T)Vespa (Piaggio)
Vespa 125 (VNB6T)Vespa (Piaggio)
Vespa 125 Super (VNC1T)Vespa (Piaggio)
Vespa 125 GT (VNL2T)Vespa (Piaggio)
Vespa 125 TS (VNL3T)Vespa (Piaggio)
Vespa 160 GS/4 (VSB1T, 1962, GS4)Vespa (Piaggio)
Vespa 160 GS/4 (VSB1T, 1963, GS4)Vespa (Piaggio)
Vespa 180 Super Sport (VSC1T, SS180)Vespa (Piaggio)
Vespa 180 Rally (VSD1T)Vespa (Piaggio)
Vespa 200 Rally (VSE1T, Femsa)Vespa (Piaggio)
Vespa 200 Rally (VSE1T, Ducati)Vespa (Piaggio)
Vespa 150 Super (A, VBC)Vespa (Piaggio)
Vespa 50 (V5A1T 893569-)Vespa (Piaggio)
Vespa 50 N Special (V5A1T 887656-)Vespa (Piaggio)
Vespa 50 N Special (V5B3T)Vespa (Piaggio)
Vespa 50 N Special (V5B3T 97625-)Vespa (Piaggio)
Vespa 50 S (V5SA1T 69602-)Vespa (Piaggio)
Vespa 90 (V9A1T 141544-)Vespa (Piaggio)
Vespa 50 (V5A1T)Vespa (Piaggio)
Vespa 50 (V5SA1T)Vespa (Piaggio)
Vespa 50 (V5SS1T)Vespa (Piaggio)
Vespa 90 (V9A1T)Vespa (Piaggio)
Vespa 125 Nuova (VMA1T)
Vespa 200 P E (VSX1T - -1980)
Vespa 200 PX E FL (VSX1T - 1984-97)
Vespa 200 PX E (VSX1T - 1981-83)
Vespa 125 PX E FL (ZAPM09300 - Bj.'98-'00)
Vespa 125 PX E FL (ZAPM09302 - Bj.'01-'10)
Vespa 150 PX E FL (ZAPM09400 - Bj.'98-'00)
Vespa 150 PX E FL (ZAPM09401 - Bj.'01-'10)
Vespa 200 PX E FL (ZAPM18 - 1998-)
---
Share this Product
---
More from this collection