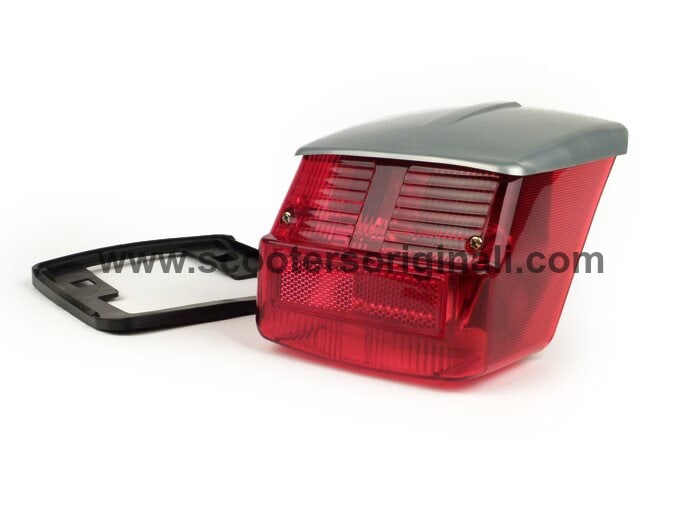 Vespa Tail Light Unit - Euro Rally 180-200, TS 125 - BGM
V05-205-BGM
Piaggio #
Vespa Tail Light Unit - Euro Rally 180-200, Sprint TS 125 
Very nice replica of the original taillight of the Rally, Sprint and Primavera models. Both the quality of workmanship, the design and the pattern of the glass are very close to the original from SIEM. Only the approval marks of the original SIEM glass are not available. Delivery includes mounted upper plastic cover, without fixing screws.
Contains:
taillight glass
taillight glass cover (ready mounted on the taillight glass)
light bulb carrier
light bulb: 1x Ba15s 12V/5W, 1x Ba15s 12V/10W
Rubber seal between taillight and frame
2x screws for taillight glass
The connection is also made via flat shoe contact plug (4.8mm, see "Accessories"). These are often corroded, so for best light values and reliability it is best to replace them.
TIP: Included in delivery are sheet metal nuts to slide on the metal body/lamp carrier. These are suitable for fixing the tail light to the vehicle with self-tapping screws (similar to wood screws). If you prefer to fix the taillight with standard metric M6 screws (like the original ones), you will need the appropriate sheet metal nuts 
---
Share this Product
---
More from this collection