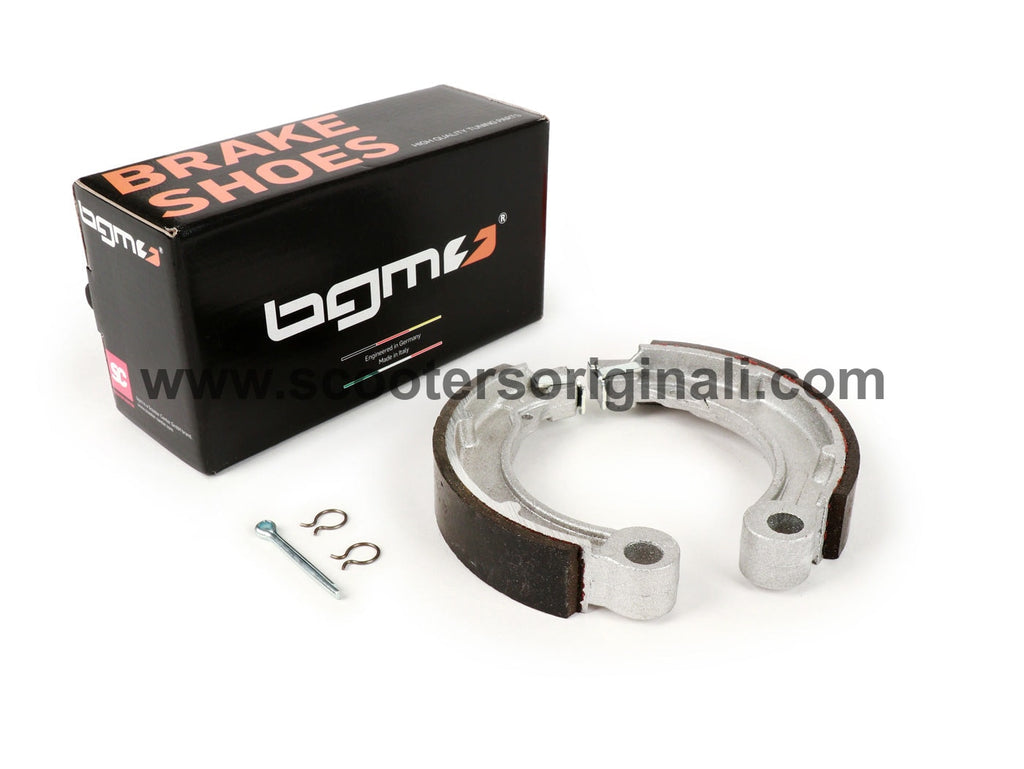 Vespa Rear Brake Shoes - VNB / VBB - 2 Pin - BGM
V08-216   
Piaggio # 78170  BGM # BGM5323    

Vespa Rear Brake Shoes - VNB / VBB - 2 Pin  

Fits late model VBB and VNB with 2 pivot pins  
Also used in 10" to 8" conversions    
BGM PRO brake shoes with lining material 'MADE IN GERMANY'
QUALITY
BGM Pro brake shoes are manufactured exclusively for BGM by one of the most renowned Italian brake lining manufacturers. The lining material comes from the German manufacturer Beral. The aluminium backing is cast in the original moulds, so a perfect fit is always guaranteed.
MATERIAL + PERFORMANCE
The brake pad compound for the BGM PRO brake pad has a high friction coefficient of more than µ=0.54 on average, which is maintained over a wide temperature range. The BGM PRO brake pad can withstand temperature peaks of up to 350°C and is therefore suitable for even the toughest applications.
DOSING + RESPONSE
The braking behaviour is powerful from the start, but at the same time easy to calculate and dose. These good properties do not diminish even under high loads. With a pad hardness of over 71 shore on average, the pad is also not too soft and provides clear feedback at the brake lever.
ENVIRONMENT
The BGM brake pad material is manufactured without the use of solvents. It contains no heavy metal compounds and of course no asbestos. The BGM PRO brake pads are deliberately not painted for environmental reasons. Manufactured in accordance with ECE R-90.
Contains:
the scope of delivery includes:
1 pair of brake shoes

2 pcs. Platelet (metal clamp)

2 pcs. Brake shoe safety devices

1 pcs. heat-resistant assembly paste from Würth (for lubricating the brake lining pins and the brake cam/platelets)
---
Share this Product
---
More from this collection