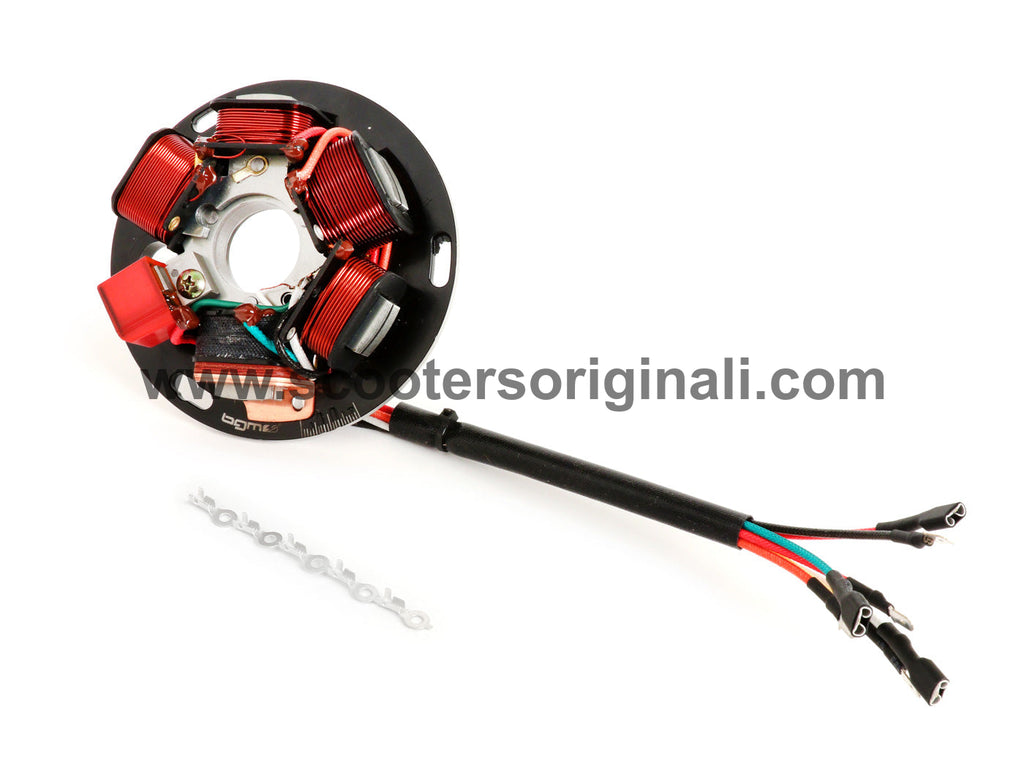 Vespa Electronic Ignition Stator V2.5 silicone - P-Range - Battery 82-84 - 7 wires - BGM PRO
 V05-402-BGM     BGM8027N
Piaggio # 990725, 160883   
Vespa Electronic Ignition Stator V2.5 silicone - P-Range with Battery 82-84 - 7 wires - BGM PRO    
Description
Latest version of the proven BGM PRO HP (High Power) ignition base plate for electronic ignition.

BGM has reworked the BGM PRO ignition base plate, which has proven itself a thousand times over, and made it even better.
A significantly higher light output than with conventional base plates is complemented by a very high quality of coils and pickup.
In addition, the cabling has been changed to textile-sheathed silicone cables.
Another nice detail is the degree exact division of the adjustment markings. This allows the plate to be adjusted very quickly and easily.
ADVANTAGES OF SILICONE CABLES

Extremely temperature resistant (-40°C to +250°C))
Always remains flexible
Very good mechanical protection by the textile fabric
Resistant to fats, oils, alcohols, oxygen, ozone
Very high insulation properties
The BGM PRO HP ignition base plate is designed as a high-quality 1:1 replacement for an original ignition/alternator.
It can be replaced without modifications. The higher light output does not require any other illuminants.

Of course, the well-known features have also been retained:  

Proven excitation coil with copper plate for highest reliability
Pickup with carbon barrier layer for a clean ignition pulse
Cleanly processed HP light coils
High quality solder joints
Original cable lugs and length for very easy cabling.   

---
Share this Product
---
More from this collection