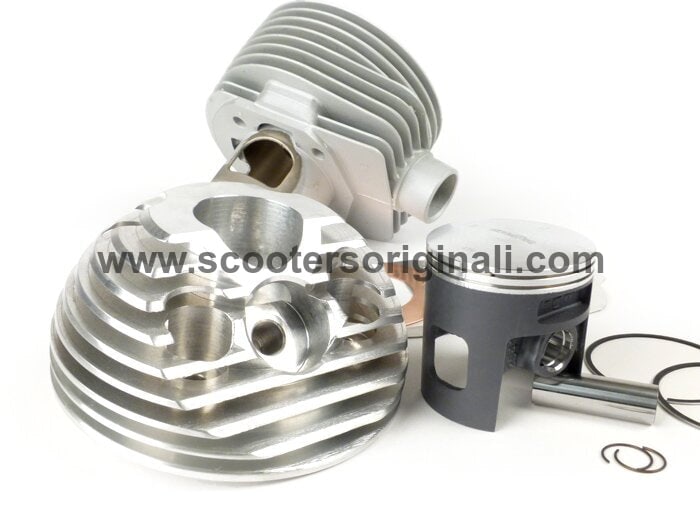 Vespa Cylinder Kit 177cc - PX -Sprint - Stella - BGM Pro
V-BGM1770N        
Piaggio #      
Vespa Cylinder Kit 177cc - P-Sprint - Stella - BGM Pro   
The bgm PRO 177 cylinder is a hard ceramic coated aluminum cylinder with 63mm bore. The coating (nickel-silicon-carbide) provides an extremely hard and durable raceway.
The piston has a high silicon content. Therefore it has a lower thermal expansion, is more wear resistant and thermally very stable.
Two 1mm thick piston rings minimize friction and thus increase power and speed stability.
The channel layout of the cylinder with four main transfer ports and two boost ports is designed for high pressure from the lower speed range.
The timing is with 57mm stroke at 118° overflow angle to 171° exhaust angle.
The cylinder kit is designed as a plug 'n play solution, simply plugged in with SI carburetor and bgm Big Box Touring the power is around 15 HP and the torque is 17 - 19Nm at the rear wheel.
With further expansion stages 25 HP and more are no problem.
Low consumption values and the associated high range are a further bonus.
Cylinder material: Aluminum
Track: coated with Nickel-Silicon-Carbide
Bore: Ø 63mm
Capacity 57/60mm Stroke: 177/187 ccm
Piston: Cast iron piston with high silicon content and two 1mm steel piston rings
Recommended squeezing edge: 0.8- 1.2mm
Control angle
57mm Stroke: Overflow 118°, outlet 171° (with foot seal 0.2mm, no head gasket)
60mm stroke: Overcurrent 123°, outlet 173° (with foot gasket 0.2mm, head spacer 1.5mm)
(head spacer for 60mm stroke not included, optional available, see accessories)
The overcurrent channels at the cylinder base have a sprue. Thus the channels on the cylinder correspond to those on the motor housing. The sprue can easily be removed to use the complete cross section of the channels.
The cylinder head is CNC milled from the solid. The combustion chamber is sunk 4 mm deep into the cylinder for perfect centering.
In addition, the adjustment of the squeezing edge is thus considerably easier and the sealing is always guaranteed. In the middle there is a thread for the mounting of a temperature sensor.
The reduction can be longer than usual in the 177ccm class due to the high torque. If a touring oriented exhaust with early support is used (BigBox Touring, Polini Original Box) at least one coupling pinion with 23 teeth should be used on a PX125. We carry these especially for the original primary wheel with 68 teeth (see accessories). Motors with a long stroke shaft also pull a 24/65 reduction on PX125 gears.

BGM's TIP for a very powerful, wide band and at the same time fast motor is to use the BGM177 cylinder on a LML diaphragm motor. Replace the original crankshaft with a 60mm full cheek shaft, replace the original LML steel diaphragm plates with carbon ones and use a sufficiently long primary reduction (on PX125 gearbox a 24/65 or similar). Together with the perfectly harmonizing BGM Big Box Touring exhaust system you get a fantastic engine that already feels very mature, inconspicuous but damn fast. In fourth gear it already starts from 40km/h to reach a top speed of more than 120km/h in one go.
Universal plug 'n play cylinder kit with early starting performance, wide rpm range, low consumption and an unbeatable price-performance ratio!
HUB 57MM

HUB 60MM

QK

combustion chamber

Compression

Compression

p>0,8mm

 

18.38 cc's

10.7 : 1

11.2 : 1

0.9mm

18.69 ccm

10.5 : 1

11.0 : 1

1.0mm

19.01 cc

10.3 : 1

10.8 : 1

1.1mm

19.32 ccm

10.2 : 1

10.7 : 1

1.2mm

19.63 cc

10.1 : 1

10.5 : 1
NOTE: Not suitable in combination with an elestart polewheel. For models with an electric starter, remove the E-Start ring gear (the ring gear is shrunk on) or use a polewheel without ring gear (see accessories).
Fits all Vespa 125 / 150 Largeframe engines with 3 transfer ports.


Vespa PX125
Vespa PX150
Sprint 150Veloce
Vespa GTR125
Vespa TS125 and
Cosa 125/150.
---
Share this Product
---
More from this collection