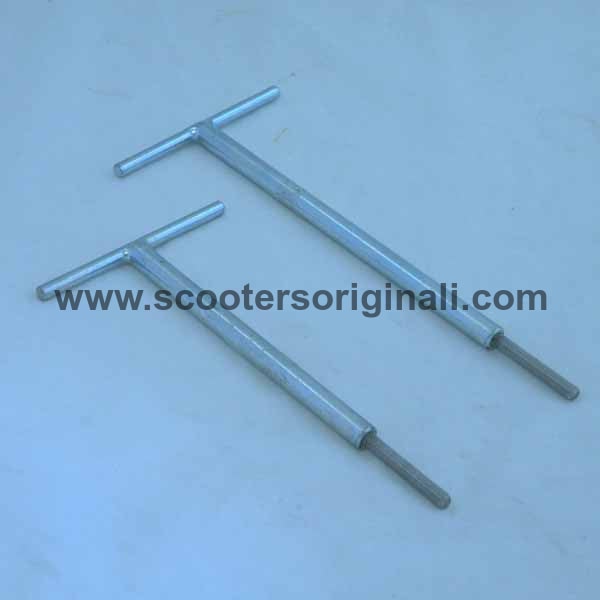 Lambretta Tool - T-bar Extractor Set - MRB
L50-704  MRB0155   
Lambretta T Bar Mag Flange Extractors - Pair - MRB   
Another tool copied from the original with a slight MRB improvement.  

MRB remake these T bar extractors in slightly different lengths so the handles don't foul each other when in use, unlike the original.  

This tool is used for removing the magneto housing and the gearbox endplate - you just insert each piece in to the threaded hole and evenly twist away.   
Fits Lambretta 
LI 125 (series 1)
LI 150 (series 1)
LI 125 (series 2)
LI 150 (series 2)
TV 175 (series 2)
DL/GP 125
DL/GP 150
DL/GP 200
LI 125 (series 3)
LI 150 (series 3)
LI 125 Special
LI 150 Special
X 150 Special
X 200 Special
TV 175 (series 3)
TV 200
GP 125 (SIL)
GP 150 (SIL)
GP 200 (SIL)
J 100 (Cento)
J 125
J 50
Lui 50
Lui 75
Eibar LI 125 (series 2)
Eibar LI 150 (series 2)
Eibar TV 175 (series 2)
Serveta 200 Jet
Serveta 125 Lince
Serveta 150 Lince
Serveta 200 Lince
Serveta 125 Special
Serveta 150 Special
---
Share this Product
---
More from this collection