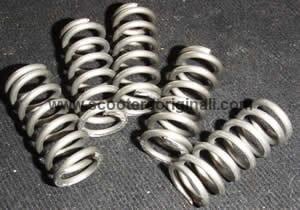 Lambretta Clutch Spring - Performance - Set/5 - Gran Turismo
Innocenti # 19020015   
L52-820-GT-SET

Lambretta Clutch Spring - Performance - Set/5 - Gran Turismo.

These performance clutch springs are ground to length and manufactured in Birmingham England to consistent production standards. They are made from heavier gauge wire than standard with a slightly longer "Free length" and higher Nmm rating than standard springs.

Inspect your existing clutch for wear and damage then fit as standard. The increase compressive pre-load helps increases the ability of the standard clutch to handle increased power from kitted engines.

These springs are not overly heavy, the spring weight is noticable but you don't need to be a weight lifter and standard levers are perfectly usable with these springs. Good for 20BHP, which covers the vast majority of kitted scooters.
---
Share this Product
---
More from this collection